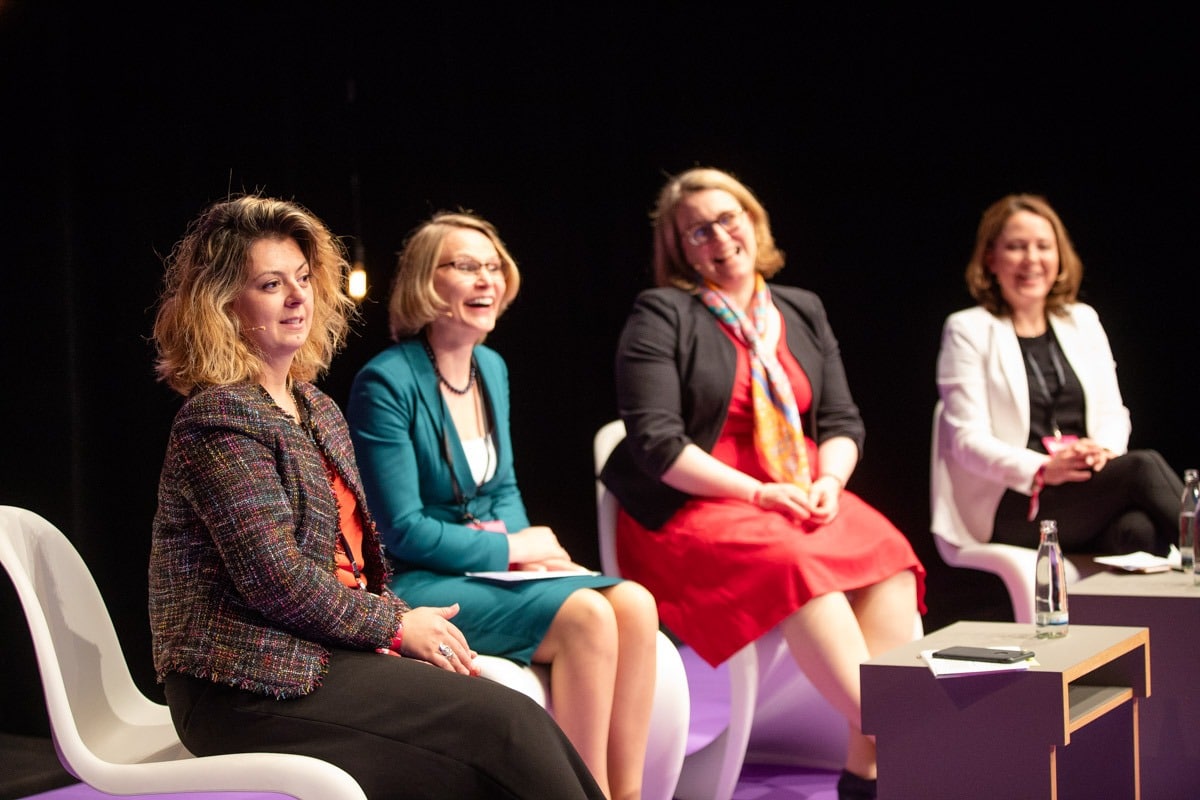 The International Association of Business Communicators (IABC) is having its global meeting in Vancouver from the 9th to the 12th of June and Professor Dr. Ana Adi is among the featured speakers. In a one hour breakout session, she will present the results of PR2025, the latest study from Quadriga University of Applied Sciences about the trends, competences and solutions for future proofing the PR profession.
"It's a fantastic opportunity to join the world conference especially as the speaker selection process is so complex and competitive: speakers must submit a video pitch of their talk as well as evaluations and videos from previous speaker engagements. Moreover, the IABC community is known for its support in PR research and theory building so PR2025 will hopefully find a supportive audience there" says Prof. Dr. Adi.
PR2025 was also extensively discussed at the recent European Communication Summit in Berlin (Photo) and featured in a webinar hosted by the Institute for Public Relations (IPR). Implications of the study's findings will also be discussed at the upcoming BledCom conference this July.
Learn more and download the study in our research section.
Personen
Prof. Dr. Ana Adi
Vizepräsidentin | Professorin für PR & Corporate Communications
Quadriga Hochschule Berlin
Prof. Dr. Adi erwarb ihren Doktortitel an der University of the West of Scotland. In ihrer Doktorarbeit, einer Frameanalyse, beschäftigte sie sich mit medialen Diskursen über China, die Olympischen Spiele und Menschenrechte während der Olympischen Sommerspiele in Beijing 2008. Vor ihrer Lehrtätigkeit an der Quadriga Hochschule Berlin hat sie in den USA (als Fulbright-Stipendiatin), in Belgien, Bahrain, Thailand und Großbritannien studiert, gearbeitet und gelebt. Zudem unternahm sie Reisen in viele weitere Länder. Bereits seit 2015 ist Prof. Dr. Ana Adi Vorsitzende der Digital Communication Awards in Berlin und seit 2018 Mitglied der Institute for Public Relations Measurement Commission.
An der Quadriga Hochschule ist sie seit 2022 als Vizepräsidentin für die Bereiche Lehre sowie (internationale) Kooperationen verantwortlich.